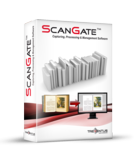 ScanGate™ is a powerful stand-alone software solution for your digitization needs and can be simply integrated in existing scanner and IT environments.
Moreover ScanGate™ offers an integrated workflow module to automate local image processing, user and system tasks.
ADVANTAGES – general functions
Easy and intuitive
Meta data interface
Real-time preview for fast quality control
Comprehensive processing functions
Applicable for different scanner hardware
ADVANTAGES – integrated workflow module
Create your own individual workflows
Automated batch processing & image treatment
Comprehensive image import functions
Fully compatible with the ScanFlow™
Professional software environment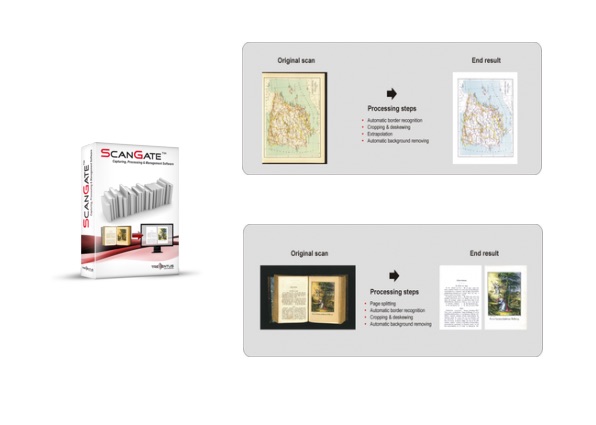 SPECIFICATIONS
Meta data handling
Bibliographic meta data*
Work flow meta data*
Meta data for document delivery*
*customizable
Recognition functions
Automatic border recognition
Border evaluation (e.g. Page size, page spread, page alignment, distances,…)
Automatic background color recognition
Reprint functions
Area protection
Automatic despeckling
Area removing
Image shape functions
Deskewing
Cropping
Extrapolation
Image optimization functions
Automatic background removing
Automatic achromatism reducing
Automatic Moiré effect removing
Image overlay functions
Adding rule
Adding watermark
Adding trim mark
Planetary scanner functions
Automatic split line detection
Page splitting
Page combining
Interlink & re-interlink pages
General functions
Image scaling
Color management – ICC profiles
OCR interface (optional)
Standard image functions
Format conversion
Resizing
Binarization
Brightness / contrast adaption
Unsharp masking
Page rotation / flipping
Structure functions
One dimensional structuring of the pages (groups)
Group naming
Optionals
Scanner interfaces
ScanFlowTM PROFESSIONAL
Copy & uploading functions
Image copying / uploading
Copying / uploading of pdf/a**, DjVu, pdf (incl. OCR layer)**, XML, doc**, rtf**, csv**, plain text** files
Meta data copying / uploading
Storage formats* jpg, jpg2000, tiff, tiff G4, png, gif, bmp, pdf/a**, DjVu, pdf (incl. OCR layer)**, XML, doc**, rtf**, csv**, plain text**
* All formats can be stored simultaneously.
** In combination with the OCR software.