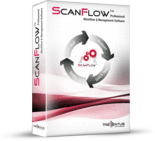 ScanFlow™ is a comprehensive and powerful software solution for the optimization of your production workflow in the field of mass digitization.
It pulls the strings in the background like a puppeteer and manages all the different tasks from scanning, post processing to completion of the scan jobs. The operators only see the visual part of the whole digitizing steps. Therefore mistakes are reduced to a minimum and effectiveness is increased.
ADVANTAGES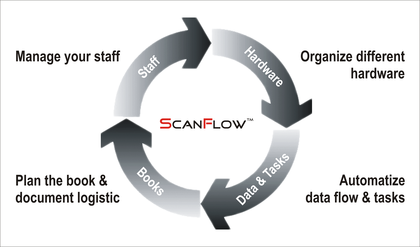 Efficient organization of staff, scanner, data and books
Increasing the throughput & output quality
Minimization of human interaction and errors
Fast quality control functions
ScanFlow™ Professional helps to organize and to coordinate all resources in an efficient way. By this it increases the output quality on the one hand side and reduces the personnel costs on the other hand side.
For the head of the digitizing centre it offers monitoring and reporting functions for a better overview of the projects.
Functions & Advantages
GLOBAL FUNCTIONS
Multiple workflows
ScanFlowTM allows to create and customize multiple workflows. These can be executed simultaneously.
Undo function
ScanFlowTM provides an undo functionality. You can return to any previous task, adjust settings and execute the task again.
Preview function
ScanFlowTM provides previews for all implemented post-processing functions.
Work copy
ScanFlowTM executes all post processing functions on an image copy, so that the original image still remains unchanged.
Scheduling
ScanFlowTM allows to schedule all tasks to guarantee an optimal resource management (e.g. time consuming and computationally intensive tasks shall be processed over night).
TASK AUTOMATION FUNCTIONS
Automatic execution of external scripts
ScanFlowTM allows to execute external scripts automatically by using a CLI (Command Line Interface).
Automatic import functions
ScanFlowTM supports automatic import functions.
Automation of FTP-uploads
ScanFlowTM enables the automation of FTP-uploads.
USER AND TASK MANAGEMENT FUNCTIONS
Automatic task report and generation of status reports
ScanFlowTM reports automatically if every task has been executed and generates status reports of all embedded workflow tasks.
Integrated inter-task message function
ScanFlowTM enables users to communicate within the software by using inter-task messages.
Remote monitoring of all processes
ScanFlowTM supports a monitoring of all processes by remote access via web interface.