Profi-V A2 V-Bookscanner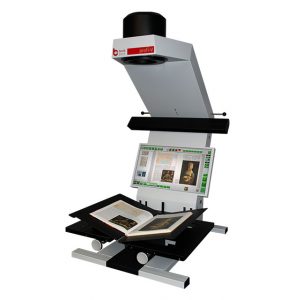 The book2net profi-V is one of the most successful and versatile book scanners on the international market and convinces users by its high quality, productivity and reliability.
The book2net profi-V can be used universally as a V-shape or 180° scanner. Especially for libraries with modern book inventory
(paperbacks, journals, … etc.), or even historical stock, this solution offers special advantages.
The book cradle function works both in V-shape and 180° operation.
The separate height adjustment of the right and left side guarantees an optimal adaptation of the support surface and allows a significant increase in quality.
The adjustable book spine exemption, center alignment and optional glass plates for 180° or V-shape operation are adding crucial features to provide a gentle as well as efficient scanning system.
The book2net profi-V is suitable for use in reading rooms as well as for professional operation in institutions or digitization centers.
BOOK CRADLE IN V-SHAPE OPERATION
Thanks to the innovative Matrix Sensor Technology with integrated book fold optimization (BFO) and the high depth of field, the book2net profi-V ensures constant image sharpness across the entire layout section including the difficult book fold and edge areas, thus providing excellent scan results even for wavy documents.
The excellent sharpness of the scanning results provides ideal conditions for a precise OCR.
Features
Production scanner
Maximum efficiency
High performance area sensor
Selectable options: 300 dpi, 400 dpi, 600 dpi
0.3 sec. scanning time (full format at 300/400 dpi)
2.2 sec. processing time (scanning + imaging + storage!)
USB 3.0 interface