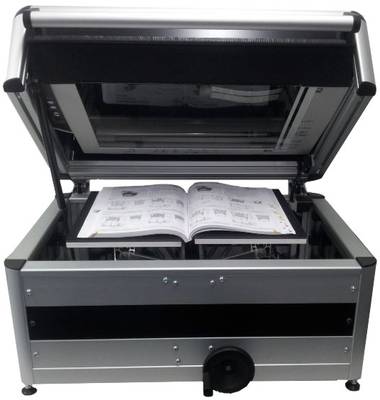 Product Description
Light, fast and affordable – the new Scan Master 3!
The SCAN MASTER 3 was designed to scan books in high quality at a reasonable price. It is a light desktop unit that can be moved around easily. With a scan speed of less than 3 seconds (A3, 300 dpi, color) it offers high productivity combined with high quality output.
New Book Cradle Concept
The SCAN MASTER 3 is equipped with a new manual pull-out book cradle. The operator simply pulls out the book cradle, places the book, pushes the book cradle back in and lifts the handle in order to move the book against the glass plate. The scanning process can simply be released via foot switch or by pressing the handle. Inside the handle is a pressure sensor that allows to release the scan just by a gentle move of your finger. This concept is cost-effective and offers a very high quality scan at a low price.
Standard Technology for Your Convenience
Standard application software is provided along with the SCAN MASTER 3. However, due to the included TWAIN driver it is possible to utilise any other TWAIN compatible application software as well.
User Friendly for the Operator
The SCAN MASTER 3 can be operated independent from ambient light – just like all SMA book scanners. No matter if you position the scanner next to a window or in a shady corner – your scanned images will always be the same quality. In addition, the operator does not get irritated by illumination elements which are necessary with other book scanners.
Mobile Use & Durability
Due to its low weight, small dimensions and rugged design the SCAN MASTER 3 is well suitable for mobile applications. It allows the user to transport the scanner to and from work stations with ease. Moreover the SCAN MASTER 3 is nearly maintenance free.