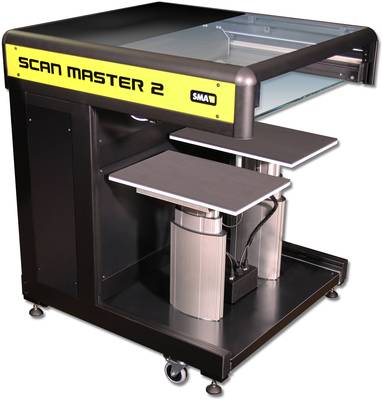 Product Description
The New A2 Book Scanner – True 1200 x 600 dpi!
The new SCAN MASTER 2 is a powerful A2 book scanner that scans any kind of bound originals as well as single sheet originals. It is the only book scanner in the world that achieves an optical resolution of 1200 x 600 dpi!
Operation Independent from Ambient Light
A special LED light illuminator without any ultraviolet and infrared radiation guarantees harmless and uniform illumination. As the illuminator is located inside the scan head and is simply moved across the original it doesn't matter where the scanner is being placed. Bright sunlight or intensive ceiling light does not interfere in the scanning process. Further there is no external light source irritating the operator.
Please note that ambient light is way more harmful to the original than the illuminator utilized in the SCAN MASTER 2!
Extremely Versatile!
The SCAN MASTER 2 is equipped with a motorized book cradle that can handle books up to 35 cm thickness without any weight limitations. A unique feature is the new pull-out concept which allows the operator to handle heavier book just like that. For thicker books a floor model is available which can handle books up to 50 cm thickness easily.