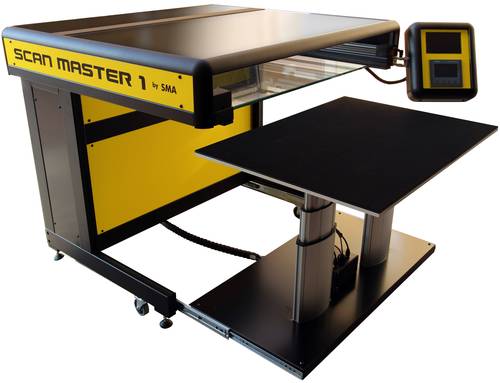 Product Description
The Fastest 600 dpi You Have Ever Seen!
The SMA SCAN MASTER 1 is a versatile book scanner that also scans newspapers, photographs, maps, architectural drawings and other documents up to A1.
Operation Independent from Ambient Light
A special LED light illuminator without any ultraviolet and infrared radiation guarantees harmless and uniform illumination. As the illuminator is located inside the scan head and is simply moved across the original it doesn't matter where the scanner is being placed. Bright sunlight or intensive ceiling light does not interfere in the scanning process. Further there is no external light source irritating the operator.
Please note that ambient light is way more harmful to the original than the illuminator utilized in the SCAN MASTER 1!
High Quality Color Scanning Technology
The SCAN MASTER 1 is equipped with a unique scan engine. It provides high quality images based on state of the art technology. Bitonal, grey scale or color images can be produced with an optical resolution of 600 dpi.
Networking Made Easy
The SCAN MASTER 1 is a network scanner. Communication with the PC takes place via network card.
Ultrafast Scanning Speed
The SCAN MASTER 1 was designed for applications where speed is an issue. With a scan speed of 9 seconds (A1, 600 dpi) it is the fastest scanner of its kind. Scan speed and interface technology (network) offers the highest possible productivity. A 300 dpi scan only takes 6 seconds!